11 international films to watch at the NewFest LGBT Film Festival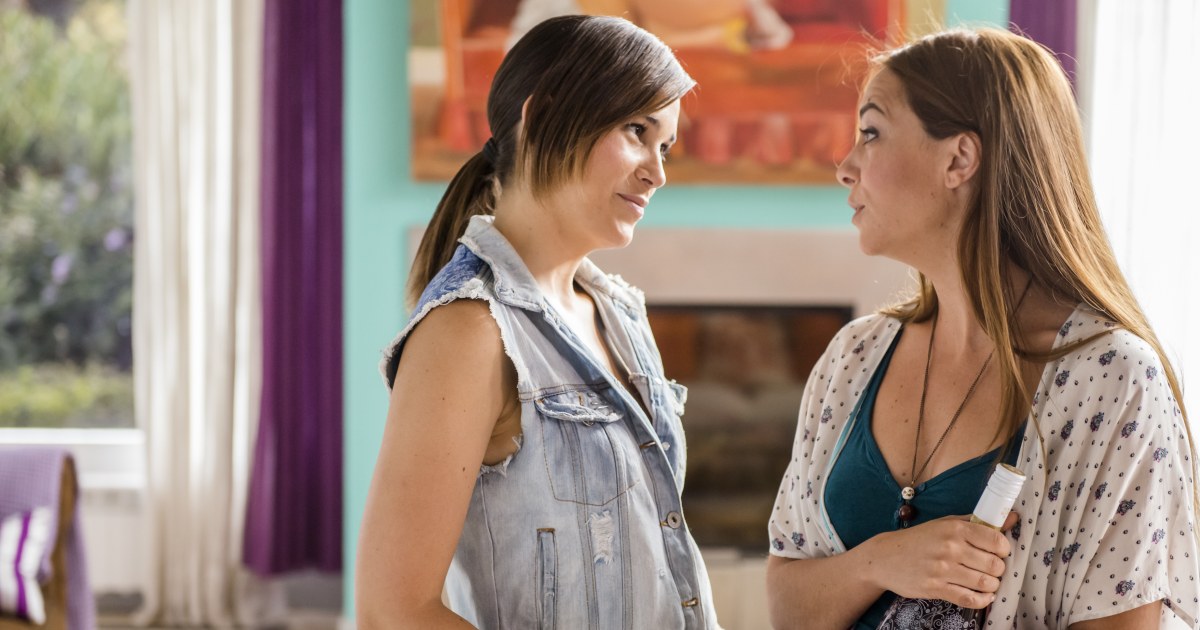 [ad_1]
More than 100 feature films and short films are presented at NewFest: New York LGBT Film Festival this year, and the list includes the largest offering of international films in the history of the festival.
"More and more filmmakers around the world are interested in telling LGBTQ stories, and they're doing them better than ever," NewFest executive director Robert Kushner told NBC OUT.
With 18 countries represented at this year's festival, which runs October 20-25, there are plenty of international films to choose from, but here are 11 to put on your radar:
We would be remiss to start this list with any film other than "Different from the Others" from 1919 ("Anders als die Andern"). Considered one of the first depictions of a same-sex couple on film, this work was destroyed by the Nazis. After a six-year restoration process, however, the film has been largely restored from pieces found throughout Eastern Europe. We may never see the full movie, but at nearly an hour and shown on 35mm film with piano accompaniment, this is a rare treat not to be missed. What rarity? The restored work has only been shown in Berlin and Los Angeles.
As for the plot of the film, "Different from the others" finds a violinist cute for a student. But paragraph 175, the German law criminalizing homosexuality that preceded the Nazis to power, leaves men vulnerable to an extortionist. LGBT activist and sex therapist Magnus Hirschfeld, who co-wrote the film, comes across as The Doctor and helps provide a sympathetic view of gay people at a time when you'd be hard pressed to find such portrayals. (Friday October 21 at 6.30 p.m.)
The most screened film at the festival is undoubtedly "The Pass". Based on the hit play of the same name by John Donnelly (which also adapted the screenplay), the film sees actor Russell Tovey ("Looking") reprise his role as professional football player Jason. The film will premiere in North America at NewFest.
The film also stars Arinze Kene as Jason's teammate Ade. After years of playing in the same football academy, the two find themselves called up to the first team and waiting for a Champions League match in a Romanian hotel room. Restless, instead of sleeping they have fun until it leads to fun. The aftermath of that night is shown in three acts spanning a decade. As is the case in the real world (i.e. homophobic backlash is always such a concern that no player has ever gone out playing in the English Premier League), the cost of maintaining d Authentic privacy is weighed against the importance of protecting your public image in a culture that turns football stars into idols. (Thursday October 20 at 7:00 p.m.)
"Rara" is a "lesbian movie" although it is not told from the perspective of its lesbian characters. Told from the point of view of 13-year-old Sara, "Rara" discovers a family that breaks up after what has become a bitter divorce. Sara and her younger sister, Catalina, live with their mother, Paula, and her girlfriend, Lia. Everything goes well until trouble at school, Sara's rebellious teenage scene, and Paula's temper give the girls' father, Victor, the excuse he needs to fight for custody.
Despite its subject matter and the fact that it is taken from a true story (co-writer Alicia Scherson lost custody of her children in 2004 due to her sexual orientation), the film is nonetheless lighthearted and easy to watch. (Thursday October 20 at 7:30 p.m.)
If you like avant-garde cinema, "Baby Bump" is not to be missed. This Polish film received a Queer Lion Special Mention at the Venice Film Festival in 2015, and if, like me, you enjoy the occasional use of tasteful animation in your live-action movies, you will find "Baby Bump "a joy to behold.
The protagonist is Mickey House (not to be confused with the not-quite-adorable cartoon mouse of the same name), an 11-year-old boy who is trying to come to terms with his body and his changing world. How many little boys do you know who sell their urine for drug tests? Well, if you didn't have any friends, a mystery to a growing mom and pair of ears, peeing in a cup would probably seem relatively normal. But at least he's got his lively pal / sometimes arch nemesis Jerboa Mouse to guide him through it all. If you're cool with body fluids and want something a little different, this movie might just be for you. (Thursday October 20 at 10 p.m.)
"One of the most powerful films we have at the festival" is how Kushner describes "Paris 05:59: Theo & Hugo". The previous audience agreed, which resulted in the film winning the Teddy Audience Award at the Berlinale in 2016.
The film begins with a gay orgy scene at a club that lasts just under 20 minutes. While these are perhaps the most unlikely circumstances to form a true love bond, this is how Theo and Hugo meet and begin their love affair in real time. Realtime, which means the men meet at 4:27 am and their time together ends at – you guessed it – 5:59 am (the movie is 93 minutes long to reflect this). So, can you fall in love in 93 minutes? Watching Theo and Hugo cycle through the streets of Paris as they get to know each other, the romantic in you will say "yes". (Friday October 21 at 9:00 p.m.)
The first documentary on our list, "Plaza de la Soledad" follows aging sex workers in La Merced, Mexico. Perhaps the most surprising fact about this beautifully shot film is that two of its subjects are related. Esther and Ángeles have been a couple for 14 years, during which time the older and wiser Esther tried to make Ángeles smarter on the streets – but now she may be a little too smart for Esther's liking.
A handful of other women are featured in famed filmmaker and photographer Maya Goded's feature debut, which is more than an impressive first kick. (Saturday October 22 at 7:45 p.m.)
Almost 10 years after the debut of her popular Spanish web series "Girl Seeks Girl" ("Chica Busca Chica"), designer Sonia Sebastián is back with "Girl Gets Girl" ("De Chica en Chica"), a strongly influenced by the web show. While the character names have changed, their personality traits remain and most of the actors have returned, including Inés, the lesbian lothario; Verónica, his neurotic ex; and Verónica's best friend – and Inés's crush – Lola.
As for the story, having fled to Miami after leaving a pregnant Verónica at the altar, Inés returns to Madrid just in time for her daughter's "period party", which Lola will of course attend. Don't take this movie too seriously and you are guaranteed to have a great time. (Sunday October 23 at 12:00 p.m.)
One of the last places you'd probably expect to find the world's only LGBT political party is the predominantly Catholic country of the Philippines – and yet that's where the Ladlad Party and its three political hopes originated. This fascinating documentary takes a look at these three candidates (two gay men and a trans woman), their campaigns, and the campaigns against them when they ran for office in 2013.
With limited funds, Ladlad's candidates are forced to travel the country to meet voters instead of mounting a massive advertising campaign. The numbers confirm that if every eligible LGBT voter supported these candidates, they would all be a shoo-in. But if not, Ladlad will have to step down, as the country's electoral rules state that a new party cannot run unsuccessfully more than twice in a row. (Sunday 23 October at 2.15 p.m.)
In "Blush" ("Barash"), Naama finds himself in his sister's shadow and lives a relatively boring life until the rebel Hershko shows up. Suddenly, Naama is in the midst of a sexual arousal that comes with light drug use, lesbian clubs, and an awkward first time. But Hershko's family life has its own issues, and she still insists on keeping her former manipulative ex around. At 17 and facing her first true love, however, Naama is ready to give her all. Writer-director Michal Vinik, however, insists the film is not a coming out story: "It's not about that. There was never any question of that. I didn't have a closet. For me, it's not the material that's interesting ",
"Blush" was shot at real parties and venues in Tel Aviv, and its incredible soundtrack and authentic atmosphere set it apart even in Israeli cinema. (Sunday 23 October at 3:30 p.m.)
"Don't Call Me Son" (Mãe Só Há Uma) won the Teddy Award for Best LGBT Film at the Berlinale in 2016. In the film, bisexual and transvestite protagonist Pierre is shocked to discover at 17 that he is been stolen from the maternity ward. baby by the very woman he calls mom. With the truth uncovered and her working class mother arrested, her wealthy biological parents want her back. But Pierre's dresses and punk style don't pair well with his new, conservative family, who insist on making Pierre the son they thought they had lost.
Despite his complex situation, Pierre continues to explore his sexual and gender identity. More than ever, identity – or its absence – matters to him. Based on a true story, the outstanding performance of this film goes to Daniela Nefussi, who plays Peter's two mothers and gives new meaning to the film's Portuguese title, which translates to "There is only one mother. . »(Sunday 23 October at 4:00 p.m.)
Esteros (Argentina / Brazil)
Would you like to risk everything for a second blow of love? This is what "Esteros" explores. In the film, Matías and Jerónimo reunite more than a decade after their attraction first manifested as teenagers. When the family's judgment got in the way, Matías was forced to move to Brazil. And while Matías has now returned to their hometown in Argentina, he took his girlfriend with him and complicated matters further. The chemistry of men, however, remains. But while Jerónimo is a confident, gay man, Matías has barely allowed himself to question his sexuality.
"Esteros" is the sequel to director Papu Curotto's 2015 short, "Matías and Jerónimo". Beautifully shot and executed, it's not to be missed. (Monday October 24 at 5.30 p.m.)

[ad_2]