AAPI Cultural Festival Honors Underrepresented Communities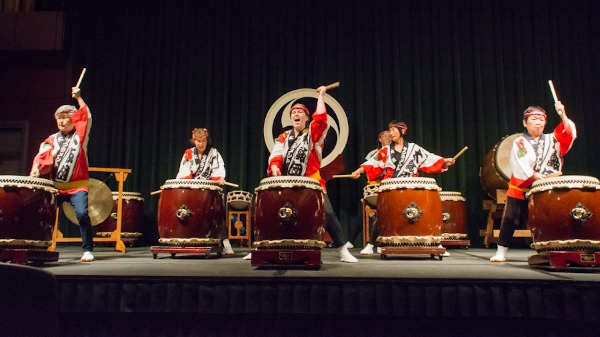 Sacramento's Creative Space and Asian Cultural Village kicks off Asian Pacific Islander American Heritage Month with "Asian Pacific CultureFest," Saturday, May 7, from 11:00 a.m. to 3:00 p.m. at the Sacramento Asian Sports Foundation, located at 9040 High Ct at Elk Grove.
The event will feature 80 AAPI-owned small businesses showcasing various food and craft products; live performances, as well as a selection of local AAPI artists.
AAPI Heritage Month officially began on Sunday May 1st. Additionally, it signifies the contributions and accomplishments of AAPI people, and how they helped shape American history. To that end, the vision of this event is not just to inspire members of the AAPI community, but to create representational opportunities that also provide education across other cultures.
"The AAPI community is severely underrepresented. This (event) will highlight and uplift all generations of all different cultures. We invite our vendors and artists to share their stories and legacy through their products and performances. Through this experience, the hope is that we can celebrate both our similarities and our differences.

-Jennifer Tokunaga, Creative Space Owner
context
Amid the pandemic, the wave of Asian hate crimes that occurred in April 2021 shocked the nation. In the wake of these events, Jennifer and Remy Tokunaga, sisters and owners of "The Creative Space", sought ways to help elevate the AAPI community. So, they started hosting a variety of small events in May 2021 during AAPI Heritage Month. Indeed, the response from the community was positive and after receiving abundant support, they decided that in 2022 they would organize a larger scale event. Soon after, they finally partnered with the Sacramento Asian Sports Foundation in Elk Grove. After hosting a handful of successful pop-up events there, they were able to secure their venue for CultureFest 2022.
"Our goal for this event is to give the hardworking, creative and talented AAPI community the exposure it deserves. Not only that, but we hope it inspires attendees and future generations of what is possible as a person. AAPI.

-Remy Tokunaga, owner of the creative space
A great team
Additionally, the Tokunagas teamed up with Jason Jong, executive director of the Sacramento Asian Pacific Cultural Village. So, after meeting at a Japantown event, they knew right away that his relationships with local AAPI artists would align perfectly with their vision for CultureFest.
"He was working with 'My Sister's House' and 'My Sister's House Treasures' to revitalize Japantown in Sacramento," Remy Tokunaga said, "He held a few events there and we were lucky enough to be part of their first event."
"We knew that with our small business relationships and his AAPI artist relationships, we would make a great team! It was a great experience working with him and stepping into his world of large scale event planning. »

-Remy Tokunaga, owner of Creative Space
Advertisement
It takes a village
Jong has deep roots in the Sacramento area AAPI community. In addition to his involvement with Sacramento Asian Pacific Cultural Village, he also volunteers with My Sister's House and the Japantown Street Festival; Sacramento Tree Foundation and the Sakuramento Hanami Line Project. He is also a founding member of APIs Rise Fund; the founding board member of the Asian American Liberation Network; and the Sacramento Asia-Pacific Film Festival. Additionally, Jong has just completed a 10-year term as a board member of Lu Mien Community Services.
Without a doubt, Jong's passion for the AAPI community shines through his work and philanthropic efforts. Therefore, he hopes CultureFest will empower the community and expose them to the rich AAPI culture of the Sacramento area at a time when racism is at an all-time high.
"Events like the Asian Pacific CultureFest come at a critical time for the AAPI community. We have all been impacted by the pandemic. It has been a tense time for many in our community as we battle two pandemics – one which is environmental, and the other which is deeper and more insidious as we face racist and xenophobic rhetoric, hatred and often violence, fueled by the perception that we are perpetual strangers in the place we call home.

-Jason Jong, executive director of the Sacramento Asian Pacific Cultural Village
Event details
Asian Pacific CultureFest is a free, family-friendly, inclusive event open to the public.
Elk Grove Vice Mayor Darren Suen; Good Day Sacramento's, Jason Segundo and 2022 Ms. Vietnam, Angie Tran will host the event. Additionally, the event will be streamed live on multiple platforms in partnership with ACC Senior Services and Access Sacramento. Live stream hosts include: Shaline DeGuzman, Christina Marie and Hannah Nguyen.
"Asian Pacific CultureFest offers something for everyone. More importantly, it's a time to come together and celebrate our collective diversity and harness the spirit of community by sharing, connecting and appreciating the breadth of the cultural landscape of the Sacramento area.

-Jason Jong, executive director of the Sacramento Asian Pacific Cultural Village
In conclusion, those unable to attend in person are encouraged to follow The Creative Space, the Asian Pacific CultureFest event page and/or Access Sacramento on Facebook for live updates.
For more information on the event CLICK HERE