Boston International Latino Film Festival Kicks Off Today | BU today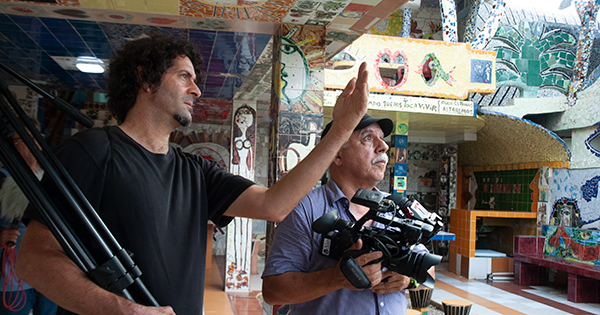 [ad_1]
For two decades, the Boston Latino International Film Festival (BLIFF) showcased and celebrated the work of Latinx filmmakers and stories that shatter stereotypes, celebrate community and culture, and offer nuanced looks at issues affecting the Latinx community in the States. -United, Latin America and Spain. The festival offers short films, documentaries, narrative films and more.
This year's festival, which kicks off September 24 and runs through October 3, will feature nine feature films and a single block of shorts directed by filmmakers from Brazil, Cuba, Puerto Rico, the United States and Moreover. Like last year's festival, this year's festival will be virtual.
BU today recently caught up with Sabrina Aviles (COM'83), director of BLIFF since 2016, to talk about this year's festival, her love of cinema and what she hopes audiences will take away from this year's list of films.
Q
&

A
With Sabrina Avilés
BU today:
How did you start to get interested in cinema?
Sabrina Avilés: I discovered old movies in high school and became a kind of old movie buff. I watched movies late at night. Even today, I probably know more than average about everything to do with cinema before the 1960s, like all movies, Oscar winners, actors and studios. I wanted to be an actor, and maybe a director one day.
At the BU, I specialized in audiovisual and I absolutely fell in love with it. I was surrounded by people who looked like these mini Steven Spielbergs. One of my work-study jobs during my senior year was working at a place in COM called the Cinema Unit, which is basically where all the film students rent their equipment. I was the only woman working in this department and got to know all the film students and developed rich relationships including Steven McCarthy who is one of the top cinematographers in the States. -United. We were classmates.
Five or six months after graduating, I got my first job out of college at WGBH. It had nothing to do with cinema, it was in a department called Caption Center, back when they were just developing captioning. This is how I set foot in the door.
Sabrina Avilés: Since then, I have made films and I continue to do so; however, my background has been mainly in production and more so in what is called creative production, which is basically not just taking care of the logistics surrounding your production, but you are in dialogue with your director to complete or add to his or her vision of what the final product will look like. So, it's those creative conversations you have with your director that as a producer you're trying to improve or resolve.
BU today:
The Boston Latino International Film Festival celebrates its 20th anniversary. Can you tell us a bit about its history and your involvement?
Sabrina Avilés: I got involved with the Latino Art Center, now called the Villa Victoria Center for the Arts, when it opened in 2001. I had met José Augusto Aviles, then director of the film festival, at a meeting and congratulated him on having the means to start BLIFF. Later, when I was the director of this center, he approached me and asked me, "Could we use your center as one of our sites? And I said, "Yeah, sure." I loved the idea, especially because of my background in cinema. And so we showed movies there for a few years.
Then, after I left the center in 2005, he asked me if I could be part of the BLIFF board. It was interesting, it was just to help him with the logistics of the film festival. I worked there – but it was a volunteer – for about three years. My title was Associate Director, which was more like an operations person. And then I left.
Jose always wanted me to come back and I just couldn't take it. And one year, he basically approached me and said, "You know, I think this is my last year. I need a break, it's time for someone else to take over. He felt that with my background in arts administration and the fact that I was a working filmmaker and somehow knew the scenery, I would be a perfect fit. I knew I wasn't going to get paid, but I thought, well, you know, I'm going to take it on and see where I can take it, because I believe in the mission. I had enough contacts in the industry that could help me develop it, and that's what happened. It was five years ago.
BU today:
What does the film selection process look like for the festival?
Sabrina Avilés: In previous years, we usually had a call for entries, where we invited people to submit their films. And then we'd have maybe 10-12 reviewers reviewing the movie and then narrowing the list down to the best possibilities. And then we would have a core programming team. I'm included in that, and that's where we watch the movies and vote for the finalists.
But this year, we have decided to get closer to the filmmakers. We did our research on what's out there, what's the buzz, you know, and we approached the filmmakers and asked them:
"Would you be interested in showing me your movie or sending us a screener?"
Due to the lack of live and in-person screenings, especially last year, movies often went straight to streaming services. And in the film festival community, we have been and continue to be challenged by this, because we only have a small window to show a film.
BU today:
Are there any particular films that stood out for you at this year's festival?
Sabrina Avilés: There is a bit of something for everyone. I think the documentary Rita Moreno [Mariem Pérez Riera's Rita Moreno: Just a Girl Who Decided to Go for It] is wonderful. It's inspiring, really entertaining, and it's beautifully shot. There are a few films that have elements of magical realism, which is almost always very beautiful. There is an abortion rights film in Texas, which is timely, even though it was shot a few years ago. There is one on what happens to undocumented immigrants who have never been able to cross the border. There is this wonderful narrative film about this young Latin woman who finds her voice among and in her community, and as a professional. She's a Latina, but the story is so universal that it can appeal to anyone.
One of my favorites, because I always love movies about art and music, is Los Hermanos / The Brothers. The story is mainly about the relationship of these two brothers — llmar Gavilán and Aldo López-Gavilán — who are Cuban musicians, one who made his life here in the United States, the other in Cuba, and how they met when we resumed diplomatic relations with Cuba during Obama's time, and how that sort of thing then fell apart when Trump took power. But this is not a political film. And yet, the context is very political. But it's such a happy movie about family, about love, about music, about art, about food. I love films like this and I usually show a film or two like this at every festival, because I like to show that despite the challenges we have as a community, we also talk about family, art, food and music, and celebration.
BU today:
Hollywood has a history of telling white stories and featuring white actors. What do you think of the industry's recent attempts to become more inclusive and diverse?
Sabrina Avilés: Locally, I think this is a major and wonderful moment for the Boston International Latino Film Festival, because now it has become evident that Latinos are not a monolith. So I have to take advantage of this with a festival against the backdrop of this kind of constantly evolving question: "What does this mean for us in the future?" Susan Jensen at the Boston Asian American Film Festival, Lisa Simmons at the Roxbury International Film Festival, and I'm doing a series called Share stories, where we have conversations about things going on at the time [in our communities]. We realized that now is the time for us to kind of use this awakening moment, if you will, to really educate the public about who we are and that there is such variety and different voices within. of these three specific film festivals.
When it comes to Hollywood as a whole, there is still a lot to work on. I think they've raised a lot of African American voices, but African Americans say it's not enough and I agree, it's not enough. But certainly, there is much more of an African American presence. I still think the Latino presence is far behind. I don't see any Latino voices, nor any Latino stories. I'm sorry, we're still not there. There has been progress, but not enough for us and our stories.
BU today:
What do you hope audiences take away from this year's film festival?
Sabrina Avilés: I want to encourage children to pursue this career as a viable career. Because once again, the representation is not important only in front of the camera. With cinema, the more you populate the industry with diverse voices, the more it reproduces. As a filmmaker now I'm working on a film and made sure the film is about a Latino community. And I've made sure that at least two or three of the people who work with me are Latinx, and it works like a charm.
Boston International Latin Film Festival (BLIFF) begins Friday September 24 and ends October 3. The entire festival is virtual and tickets cost $ 10 per film. Tickets are available within 48 hours of the film's release. Once you have purchased a ticket within this time frame, you have 24 hours to access the screening. Find more information, including this year's festival lineup, here.
[ad_2]