Edinburgh International Festival Musical Revues: Princess Nokia | Ibn Battuta: The Time Traveler | Istanbul 1710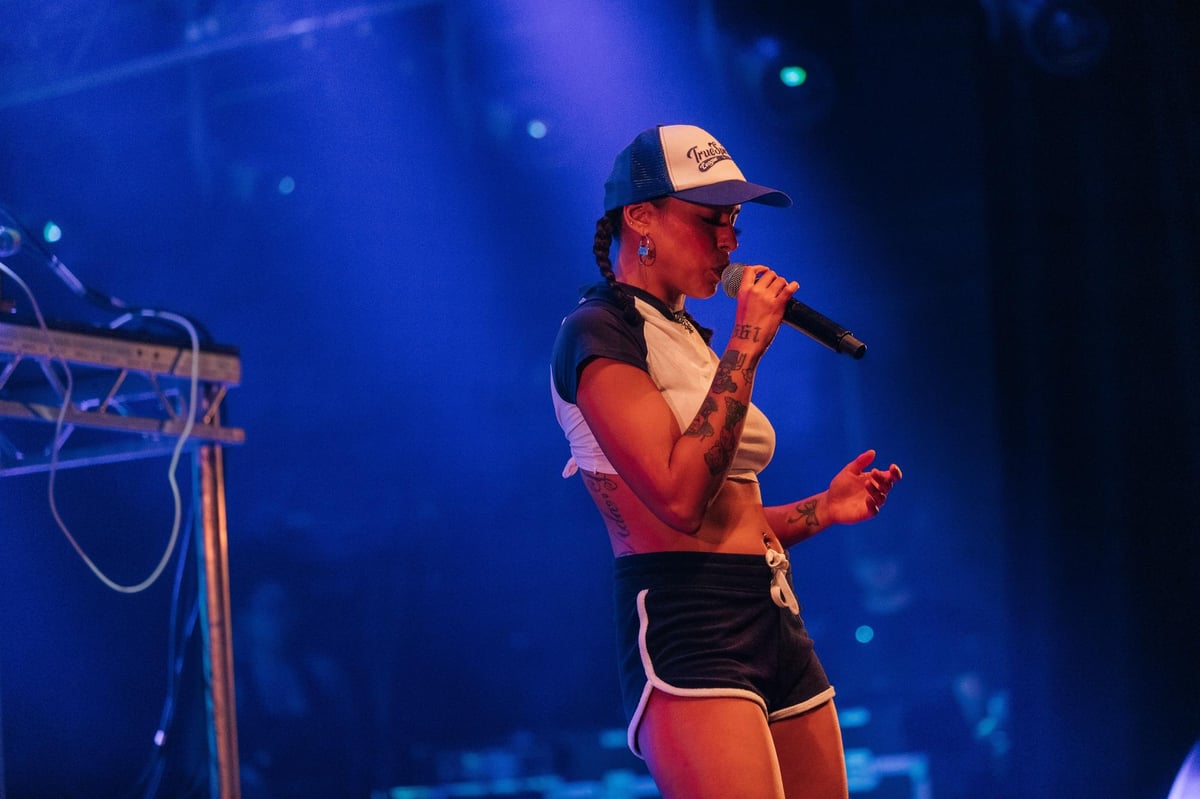 In early 2020, Princess Nokia, the New York-born rapper Destiny Nicole Frasqueri, released two albums simultaneously, Everything Sucks and Everything Is Beautiful. This duality of mood was present throughout its wide and somewhat haphazard set at the Leith Theatre. She arrived on stage looking utterly glamorous in the sport laid back and performing kickboxing moves, to the turbo strains of The Prodigy's Firestarter, and later said she wanted to portray the late, lairy frontman of Prodigy Keith Flint in his performance. At the same time, she proclaimed herself a "beacon and vessel of love" and dedicated the sweet jazz-influenced kind of apple pie to some ecstatic teenage fans in the front row.
In the spirit of being everything to everyone, she rapped to serious bass music but also gospel funk breaks and spaghetti western samples, danced to deep reggaeton rumble, sang a cappella with varying success and offered the benefit of his street wisdom through a deliberately PG-rated take on his repertoire, from the tremulous rhythm and message of the girls in charge of I Like Him to his rapid rhymes over Slumber's irresistible bassline Party.
There was no concern for momentum or a creative arc for the show. Individual tracks churned out, seized upon the general frenzy of the crowd, only to be tossed around in slash-and-burn times, usually to a fade-out from his DJ. The fire was well lit – then extinguished, then reignited.
It was a weird way to impact his first visit to Edinburgh, but given the common girl vibe emanating from the crowd, who knows what Nokia should have done to provoke a negative response? It was clear she was an inspiration to the young girls in her audience and she was rewarded for her jerky efforts with a sports bra tossed onto the stage in adoration. Fiona Shepherd
Ibn Battuta: The Time Traveler ***
With a group of musicians of great cultural diversity, brought together from China, Syria, Armenia, Greece, Turkey, Spain and Morocco, under the direction of early music specialist Jordi Savall, the ensemble Hespèrion XXI has developed a fascinating concept to trace the journey of the 14th century Arab writer Ibn Battuta through music. Even if the Usher Hall was not quite the right place to hear it on Wednesday evening, the road book of the places visited by Battuta provides the common thread to present a series of 19 instrumental and vocal pieces linked together by stories, pragmatic remarks. played by actor Assaad Bouab.
The percussive tablas and modal sounds of instruments such as the oud, plaintive flutes and the medieval lute helped transport audiences east to Africa and across Asia. As evocative as the music was, a huge map on a screen, or a live video focusing on the unusually distinctive instruments of Hespèrion XXI, or digital images of the exotic sites written by Battuta could have elevated the performance to a different level. . The amplification, while necessary in such a large space, distorted the sound of the instruments and did the soprano and baritone soloists a disservice in terms of balance or duet singing. Carol Main
Istanbul 1710: Jordi Savall & Hespèrion XXI *****
It is perhaps unsurprising that the Catalan polymath Jordi Savall was drawn to the 18th century Moldavian prince Dimitrie Cantemir: both are pioneers of cross-cultural music, Savall for decades of research and performance both in early music and "world" music, and Cantemir in his decades in Istanbul/Constantinople three centuries ago, and his research on Ottoman music. Savall's passion was evident in his performance with five international musicians of numbers from Cantemir's Book of the Science of Music and short pieces from the same era.
It is virtually impossible, of course, to analyze these performances without the level of scholarship that Savall himself possesses, but taken in purely musical terms they were gloriously lithe and nimble narratives, delicately decorating melodies with breathtaking and ever-changing microtonal intervals, unpredictable rhythms, depending on the particular personalities of the sextet of instruments involved – from Savall's somewhat raw and unadorned hurdy-gurdy and lyre, to the spectacular sweeps, harmonics and tremolos that Hakan Güngör has drawn from his plucked zither kanun.
The music ranged from swirling dances to gentler solo meditations, and a duet between Güngör and his colleague Dimitri Psonis on santur (stripped zither) was particularly memorable. As so often with Savall, it was a glimpse into music long forgotten or overlooked, in wonderfully engaging and persuasive performances. David kettle