International Film Festival 2022: GMA Pinoy TV wins two Silver Awards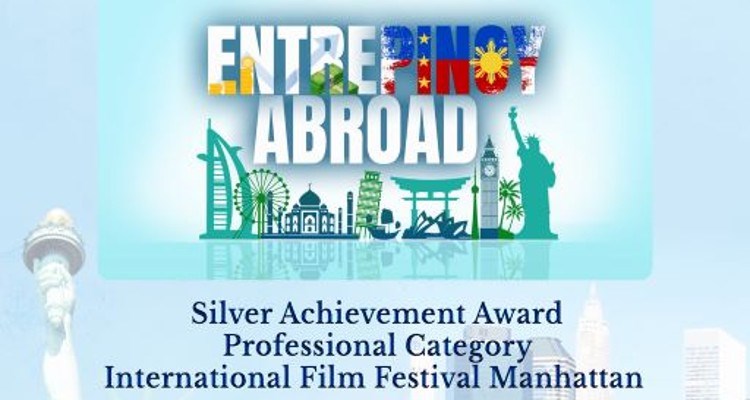 earn money under IFFM Category News, 'Global Pinoy Unlimited' is short-form content that features what's new in the global Pinoy community – highlighting community news, Pinoy headliners and their important contributions to the community, and special information kababayan and Kapuso events around the world.
The award-winning episode, broadcast on GMA Pinoy TVwas about the Filipinotown Historic Walkway in Los Angeles, California, United States. The massive arch was the largest Philippine monument in historic Los Angeles and is officially called "Talang Gabay (Our Guiding Star)". The 30-foot-tall, 82-foot-wide steel arch pays tribute to all Filipino immigrants, as well as the outstanding contributions of Filipinos to the community.
"We at GMA Pinoy TV are one with Global Pinoys who continue to dream and work for representation," said Cheri C. Domingo, GMA International Senior Vice President for Programming in his acceptance speech. "And this recognition of our content efforts aligned with this aspiration is very inspiring and motivating for us. Thank you, Manhattan International Film Festival, for the Silver Awards for GMA Pinoy TV's Global Pinoy Unlimited. I share this award with GMA International and the GMA program support teams who are behind this proudly Filipino content." added.
On the other hand, 'EntrePinoy abroad'a digital series of GMA Pinoy TVhighlights the stories of Filipinos abroad who, despite the challenges of starting their own business in a foreign country, continue to persevere and promote Filipino products to the world.
Winning a silver medal in the episodic category was the hallmark of the Filipino architect Evangeline Macasa Monjardin, managing partner of an interior design and contracting firm in Dubai, United Arab Emirates. In said episode, she shared her inspiring journey on how she went from employee to starting her own business. It was originally published on GMA Pinoy Televisions Facebook and YouTube pages and aired on GMA Pinoy TV.
"Thank you, IFFM for the Silver Award given to EntrePinoy from GMA Pinoy TV. The program shines a spotlight on Pinoys as they take on the daring challenge of making their entrepreneurial dreams come true, in hopes of inspiring other budding entrepreneurs. Muli po from the entire GMA International and GMA International Marketing team, maraming salamat po for staying stronger with GMA Pinoy TV," Marketing Director Beth De Guzman expressed.
"On behalf of GMA Pinoy TV, congratulations to our hard-working team behind Global Pinoy Unlimited and EntrePinoy Abroad as well as our kababayans who have trusted us to share their stories to inspire their fellow Kapuso overseas. This recognition from the IFFM is another testament that we are truly #StrongerTogether in creating impact across the world. We share this honor with all Global Pinoys! GMA International Senior Vice President and Chief Joseph T. Francia concluded.
The Manhattan International Film Festival is an independent film festival that showcases a selection of world-class short films that screen in multiple theaters in Manhattan, New York, USA. Now in its 13th year, the awards body focuses on social relevance as part of its programming and goals as it creates an opportunity for filmmakers and artists to showcase their work in the Big Apple. . This year IFFM award ceremony took place on November 12 and was hosted by Luis Pedron.