Korean Cultural Festival "Quiz on Korea and K-Pop World Festival" today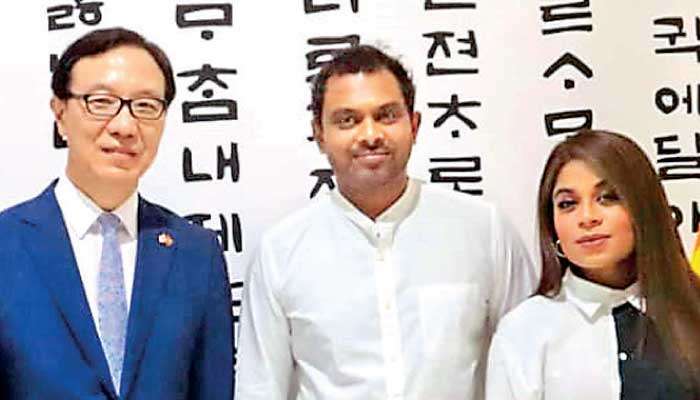 Korean Ambassador Santhush Woonjin Jeong with renowned Sri Lankan musicians and dancers Bathiya Jayakody, Channa Wijewardena, Santhush Weeraman, Umaria Sinhawansa and Aseka Wijewardena
---
To mark the 45th anniversary of diplomatic relations between Korea and Sri Lanka, the Korean Embassy brings you a cultural festival including the highly anticipated "Korea Quiz and World K-Pop Festival". This event will take place on June 11, at the Sugathadasa Indoor Stadium from 2 p.m.
The Korea Quiz includes 150 participants who will compete to enter the final stage of the competition. Co-hosted by the Ministry of Foreign Affairs (MOFA) of Korea and the Korean Broadcasting System (KBS), the final round of the "Korea Quiz" will be held at KBS station in Seoul on September 4 with the finalists selected from around the world. This is a great opportunity to broaden and deepen your knowledge of Korea and win exciting prizes.
The K-pop festival to be held with the Quiz on Korea provides a platform to showcase the unique talents of Sri Lankans who have been shortlisted in the Best K-pop Dance and Singing Performance categories.
The best performances will be selected by a jury including popular musicians Bathiya Jayakody, Santhush Weeraman and Umaria Sinhawansa as well as famous choreographers Channa Wijewardena and Aseka Wijewardena.
If a team from Sri Lanka is selected for the semi-finals, they will have the opportunity to participate in the final tournament in Korea with all expenses covered by Korea. The grand finale of the K-Pop World Festival will be held on September 30.
To celebrate the historic anniversary of diplomatic relations, the Korean Embassy organized a series of events to engage with Sri Lankans who are interested in Korea and Korean culture.
The Korean Embassy headed by Ambassador Santhush Woonjin Jeong is keen to create cultural synergies between Korea and Sri Lanka, blending Korean and Sri Lankan cultures to create a harmonious and unique result. As part of the year-long celebrations, this exciting cultural festival is specially designed for you to learn more about Korea and enjoy Sri Lankans' talented performances on K-pop music. Don't miss this opportunity to celebrate the friendship between Korea and Sri Lanka! They warmly invite all of you who love Korea and want to know more about Korea to enjoy the Korean Cultural Festival. May you be transported to the wonderful world of Hallyu!