Pontianak organizes the artistic and cultural festival of Benua Melayu Laut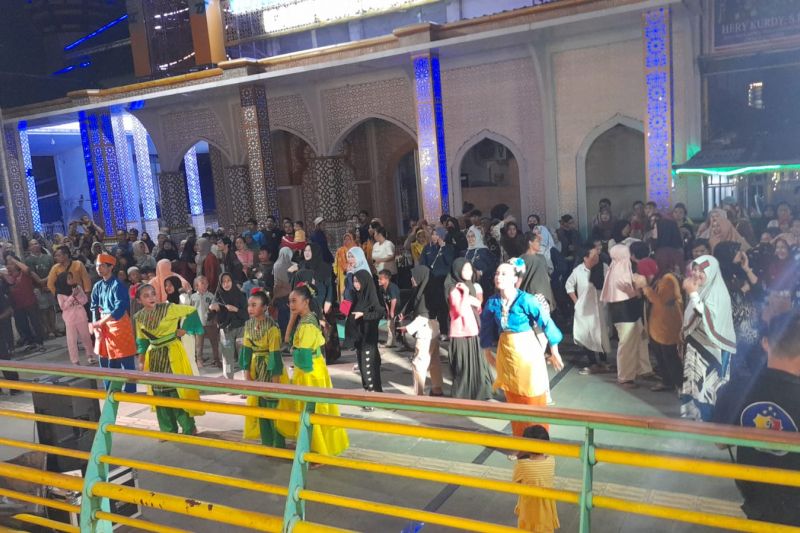 As the Ministry of Education, Culture, Research and Technology started to include artists (as art teachers) in schools, it would be extra-curricular (for students). In the city of Pontianak, we prepare them in 16 schools, and they will be evaluated ev
Pontianak, W Kalimantan (ANTARA) – The city government of Pontianak, West Kalimantan province, has organized the Malay arts and cultural festival "Kampong Melayu Benua Melayu Laut" along the banks of the Kapuas River, with dances and music from local bands and communities.
The festival aims to preserve the city's rich Malay culture and introduce it to young people, the head of the Pontianak Education and Culture Office, Sri Sujiarti, said on Saturday in Pontianak.
"As the Ministry of Education, Culture, Research and Technology has started to include artists (as art teachers) in schools, it would be extra-curricular (for students). In the city ​​of Pontianak, we prepare them in 16 schools, and they will be evaluated every year," she added.
Related News: Brunei, Malaysia and Singapore join Malay Festival in Batam, Riau Islands
Malay dance and music from the city of Pontianak has the potential to be showcased on national and international stages, Sujiarti said.
Similar festivals are regularly held three to four times a year, and this is the first time the festival has been held by the river, she added.
Other cultural festivals include the Meriam Karbit Festival, Pengantine of Arakan (procession of sending the groom to the bride's house in the Pontianak Malay culture), Go Meh cap or the 15th night of the first month of the Chinese calendar, and tribal ritual Gawai Dayak to show gratitude for the harvested crops.
Related News: Minister hails collaboration to advance Riau fashion industry
"Every year, we apply for the establishment of cultural heritage and intangible cultural heritage. We also inventory the cultural data of the city of Pontianak with the central government," Sujiarti informed.
On July 30-31, 2022, Minister of Tourism and Creative Economy Sandiaga Uno will participate in the 'Kampong Melayu Benua Melayu Laut' festival to consider the inclusion of Kampong Melayu (Malay Village) in the list of top 50 entrants for the Indonesian Tourist Village Award 2022 (ADWI).
Sujiarti said efforts to support the assessment covered aspects of safety, order, cleanliness, freshness (temperature), beauty and hospitality.
Related News: G20 DEWG Workshop at NTT Discusses Data Governance
Related news: Everyone's responsibility to prevent bullying against children: Jokowi