"Silent" love, the other and families: the Nicosia International Festival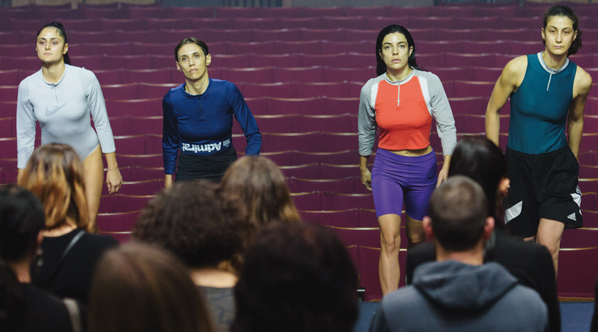 [ad_1]
Continuing to bring artistic performances to the capital, the Nicosia International Festival offers more exciting shows, plays and concerts this week. This Thursday 25, ETHAL's main stage will premiere at the Festival with Mark Medoff's award-winning play, Children of a Lesser God.
Lea Maleni, 20 years later, returns with Children of a Lesser God, this time not as the protagonist but as the director, giving her own take on Medoff's play. The Tony Award-winning piece, 42 years after its first theatrical release and 35 years after its successful transfer to the big screen, continues to thrill as it deals with human relationships and their anxious quest for communication.
The story begins with James Leeds, a speech therapy teacher specializing in people with hearing and speech problems, when he sets out to teach sign language at a school for the deaf. There he meets the young, also deaf, Sarah and quickly begins a strong love story. Sarah, living on the margins and in the grip of social exclusion and even rejection from those close to her, is closed in her silence and refuses to meet the "normal" world that has hurt her so much.
On Friday the 26th, five female artists, under the direction of Elena Antoniou, will take the stage of the Municipal Theater of Nicosia, occupying the space and time allotted to them. Their performance titled WISH explores the relationship between the viewer and the person observed; women who are subjected to the piercing gaze of Others. Through the performance, women ask themselves if they can redefine the limits set by the body by looking straight into the eyes of the viewer and what there is to do so that women finally find the space they deserve.
The week will end with another theatrical performance. Tom Holloway's Red Morning Sky premieres in Cyprus this Sunday 28 at the festival under the direction of Paris Erotokritou. Translated into Greek, this production combines elements of cinema, television, music and theater, attempting an x-ray of our inner world, bringing the story of three family members to the Cypriot scene.
Children of an inferior God
Adaptation of the play by Mark Medoff, directed by Lea Maleni and presented by ETHAL. November 25. Nicosia Municipal Theater, Nicosia. 8:30 p.m. www.soldoutticketbox.com
To wish
Performance of five women artists, directed by Elena Antoniou. November 26. Nicosia Municipal Theater, Nicosia. 8:30 p.m. www.soldoutticketbox.com
red sky morning
Adaptation of the play by Tom Holloway, directed by Paris Erotokritou. As part of the Nicosia International Festival. November 28. Nicosia Municipal Theater, Nicosia. 8:30 p.m. In Greek. 10-18 €. www.soldoutticketbox.com
[ad_2]