The 3-day traditional cultural festival begins in Chadoora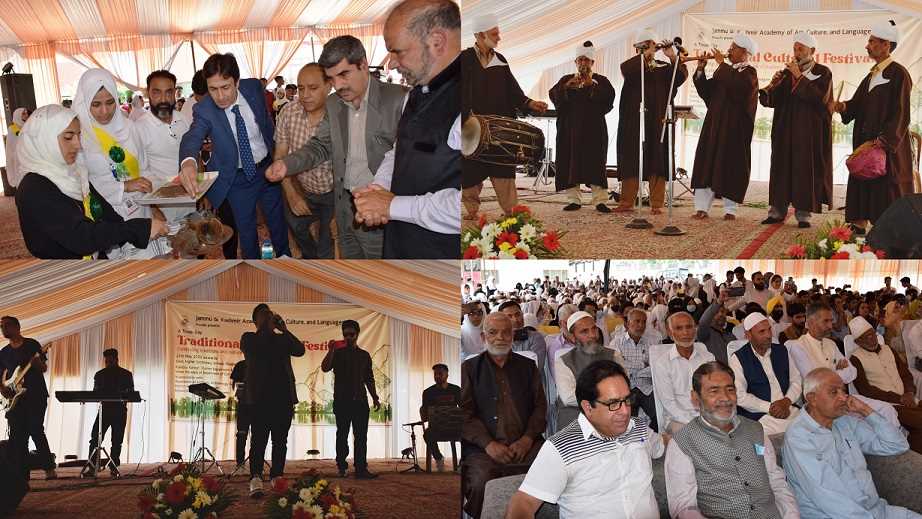 The three-day traditional cultural festival kicked off today at Chadoora Higher Secondary School in Budgam where renowned national and local artists including Bollywood singer Romy Gill performed.
The festival aimed at promoting Kashmiri culture and tradition is organized by Jammu and Kashmir Academy of Arts, Culture and Languages ​​(JKAACL) in collaboration with Budgam District Administration, Departments of tourism, culture and archives, archeology and J&K museums.
Speaking on the occasion, JKAACL Secretary, Bharat Singh said that these cultural festivals are held in every district to promote the rich culture of Kashmir.
He said that during the three-day event, various locally and nationally known artists will perform a variety of cultural performances.
He urged artists to make the most of the platform and showcase their talent. He said culture is an integral part of society and everyone should make an effort to protect it and pass it on to future generations as our identity.
During the event, artists will perform Chakri, Rouf, Dumbal dance, Bhand Pather and other traditional folk dance and music programs.
Enthusing the audience, Bollywood singer Romy Gill also performed on stage, receiving a round of applause from the audience after each song.
ADDC Budgam, Dr. Akramullah Tak who also spoke on the occasion said that these festivals are important in enhancing cultural and religious harmony among the people.
He said Chadoora has a rich cultural heritage and holding the festival here is a great tribute to all those who have contributed immensely to our culture and history.
He further emphasized on sticking to the roots of ancestors as the promotion of culture and identity.
Paying rich tributes to the recently slain television entertainer Amreena Bhat, a two-minute silence was also observed by all attendees on the occasion.
Farooq Renzu Shah, President of Kashmir Society International, who paid tribute to the television entertainer, said there is a need to protect our cultural heritage and strengthen the idea of ​​coexistence in our society.
He further appreciated the efforts of the Cultural Academy for its tremendous work in promoting the culture and traditions of Kashmir.
During the presentation of the keynote address, Prof. Shad Ramzan said that when it comes to the history, ethos and literary basis of Kashmir, we are one of the oldest civilizations.
He said we had an indigenous folklore, language and rich literal history, which needed to be protected and of which we were proud.