The 73rd Warren Miller Film Festival inspires a new generation of athletes – The Spectator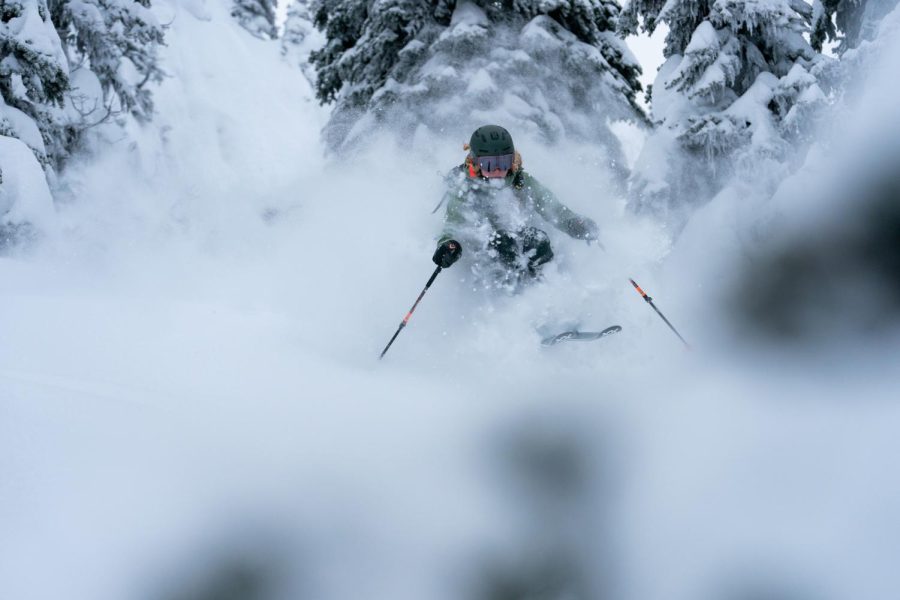 Over the past 73 years, the Warren Miller Film Festival kicked off the next winter sports season, and this year the movie "Daymaker" made its big screen debut. Although Warren Miller, the founder of Warren Miller Entertainment, died in 2018 and took a step back from filming in the late 80s, the tradition of the film festival lives on through the skiers and snowboarders who grew up watching his movies. They have inspired generations of athletes and an entire action sports media industry.
"Daymaker" has several different segments, including free skiing in Sun Valley, Idaho, and a segment at Snowmass in Aspen, Colorado where the National Brotherhood of Skiers annual summit takes place. The film also features professional skiers shredding the Olympus mountain range in Greece and the Monashees mountain range in British Columbia. The film constantly shows the joy and excitement of snow sports.
Getting new viewers excited about the upcoming winter season is one of the main goals of the Warren Miller Film Festival, and it's the main reason why movies like "Daymaker" get screened at festivals around the world. theatrical, as opposed to a standard theatrical release. The films show everything from skiing in a groomed resort to heliskiing on some of the most extreme mountains in the world. Filmmakers want films to be relatable, accessible and exciting.
Warren Miller's films are divided into segments. The different sections are filmed in different regions of the world, each with a unique objective. This year's "Daymaker" film features a professional skier Connrey Lundin in a segment where he travels to Switzerland to go turf skiing, adding "extreme turf skier" to his title. The segment was inspired by part of Warren Miller's 1984 film "Ski Country" which shows three skiers skiing on lush, green mountain grass.
"Every little bump, pebble and rock could easily knock you down," Lundin said. "It's intense, it's bumpy, it's noisy, but we had a great time filming and it went well."
This year, "Daymaker" will be shown in 30 states and Washington DC, four Canadian provinces, Iceland, Australia, New Zealand and the United Kingdom. The film features over 30 professional skiers showcasing multiple styles and techniques.
Many of the film's athletes grew up watching Warren Miller movies. Lundin recalls contacting Warren Miller Entertainment endlessly until they finally let him be part of their 2018 film "Timeless." Now he has participated in three of them. For Madison Rose Ostergrenanother professional skier, "Daymaker" is her second film.
"When I was younger, I grew up in a small town in northern Michigan," Ostergren said. "My family and I always went to see the Warren Miller movies, it was the ultimate kick-off to winter. I watched the big screen thinking I wanted to be in the movies.
Ostergren eventually moved to Utah to ski race. While there, she attended a ski racing academy and competed throughout college, during which time she decided to pursue film and media in the skiing world. This includes participating in larger films like Warren Miller's, but also helping to produce smaller, independent films with more of his personal story.
Each stop on the film's tour welcomes at least one of the athletes from the new film to participate in meet-and-greets and talk with those in attendance. Professional skier and inspirational ski consultant Marcus Caston toured with Warren Miller for eight films and met people who attended year after year.
"Going to shows, you see people taking their kids to the movies for the first time or people who've been going there for 50 or 60 years," Caston said. "It's really cool and meaningful."
Warren Miller Entertainment has been around since 1949 and is considered the pioneer of the world of action sports cinematography. With one film released each year, "Daymaker" is the 73rd film produced by the company. There will be projections of the film throughout Western Washington beginning in early November with the final screening Dec. 11 in North Bend.